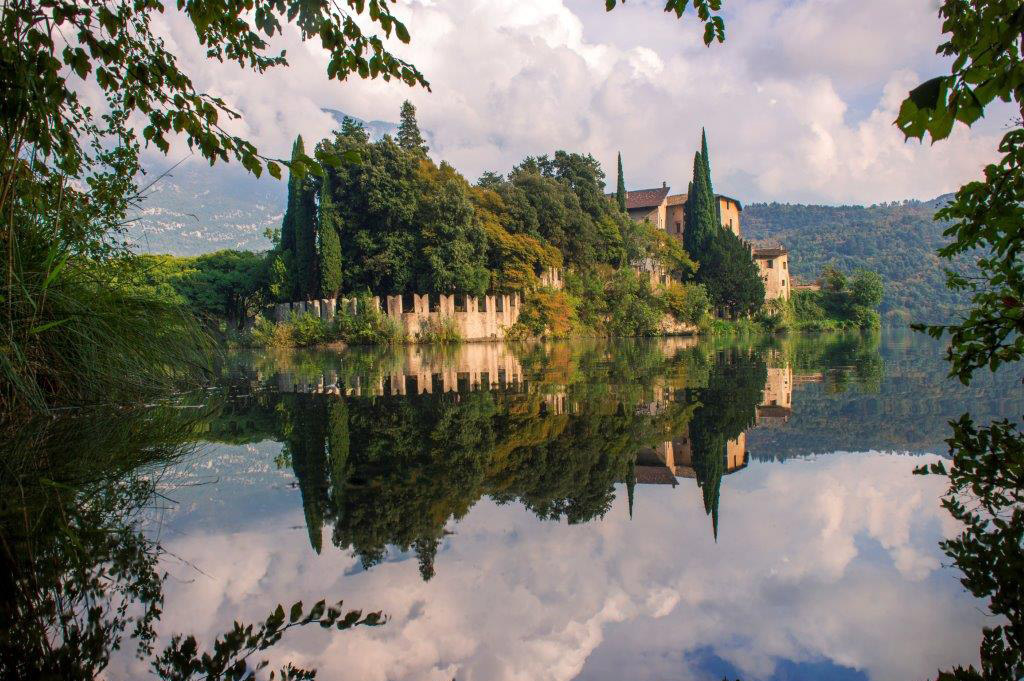 Dintorni
The surrounding areas offer a multitude of opportunities to make your holidays unforgettable.
We particularly suggest and recommend: Panoramic excursions on the slopes of Monte Casale, and walks along the peaceful banks of Lake Cavedine. Sports people can use the numerous mountain bike routes and cycle paths to reach many places in the local area such as Arco and Riva del Garda.
Climbing enthusiasts will find the famous "parete zebrata" rock face and the "Che Guevara" prepared route, just five minutes from the Hotel, allowing you to cross the summit of Monte Casale and enter the Giudicarie Valley. People looking for serious thrills can try Base Jumping from the Becco dell'Aquila (Eagle's Beak), one of the few places suitable for this sport and thus known throughout Europe. Sport fishing lovers can try Lake Bagatol, just a few kilometres away, as well as the numerous sections along the charming river Sarca.
The protected Marocche Biotope, a 14.5 km2 mass of rocks left behind by glacial movements in various geological eras, partially recolonised by vegetation. This unique landscape is of great scientific interest and can be fully appreciated by following the marked paths.
People who appreciate art, medieval history or just enjoy the charm of ancient legends will love a visit to the castles in the area. Castel Drena: featuring an imposing tower and with the internal buildings surrounded by an enclosing wall is a typical example of how the fascination of history can survive intact through the ages. Castel Toblino, the most famous and best known among the castles of Trentino, a splendid and well-preserved residence which stands on a rock which protrudes into the Lake of Toblino making it without doubt one of the most lovely and magical settings in the entire region. Equally worth noting is the Roman bridge, with its single arch over the river Sarca in the village of Ceniga.
Every year, at the end of July and the beginning of August "Drodesera", the international dance – theatre festival which offers a week of interesting cultural initiatives in a truly unusual setting: the Fies hydroelectric station. These unusual spaces where nature and the manmade world meet become fertile terrain for innovative artistic experiences featuring both emerging companies and established artists.